Newspaper distribution in Kurdistan in the nineties was a very dangerous business. A group of children, including Baran and Hebun, carry out this dangerous business. They are faced with death and arrest in police pursuit at any time.
Di salên notî de li bakûrê Kurdistanê belavkariya rojnameyê karekî gelekî xeter bû. Koma ku Bawer û Hebûn jî di nav de vî karê "xeter" dimeşînin. Polîs her gav li pey wan in, bi girtin û kuştinê re rû bi rûne.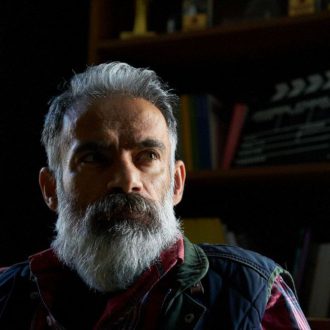 Metin Ewr (Metin Bulut) was born in 1978 in Diyarbakır. He has worked in theatre, literature and language. He started his cinema studies in Diyarbakır, where he returned in 2010. He continues his cinema studies at the Middle East Cinema Academy Association.
Metîn Ewr (Metin Bulut) di sala 1978'an de li Amedê hate dine. Di nava xebatên şano, wêje û ziman de cih girtiye. Di sala 2010'an de vegeriya Amedê û dest bi xebatên sînemayê kir. Niha di Komaleya Akademiya Sînemayê ya Rojhilata Navîn de xebatên xwe didomîne.