Dead End in the Land of Ulysses
Während ihrer Reise sind die Migranten mit vielen Ereignissen konfrontiert, genau wie einst Odysseus, und viele von ihnen befinden sich jetzt in Griechenland. Sie kehrten nicht in ihre Heimat zurück. Kein Ort in Griechenland ist ihre Heimat. Keine Frau, kein Kind, keine Verwandte, niemand wartet auf sie. Sie sind keine modernen Odysseus, sondern echte Kinder, Frauen und Männer, Sirwan, Hanan, Azad oder Mervin, gefangen in der europäischen Verwaltung auf dem Migrationsweg: sie befinden sich in Griechenland in einer Sackgasse!
Di temamê rêwîtîya xwe da mîna ku zemanekê da Odisseus jî jîyabû, bi gelek bûyerî ra rû bi rû man û gelek ji wan niha li Yewnanîstanê ne. Li Yewnanîstanê tu der ne mala wan e. Ji welatê xwe revîyan ber bi welatên ewropaya bakûr û rojava. Ew ne Odisseusên nûjen in lê jin, zarok û mêrên rasteqîn in. Şîrwan, Azad, Hanan û Merwinên di rêveberîya ewropayê ya penaberan da asê mayî di Yewnanîstanê da di kolaneke mirî da ne.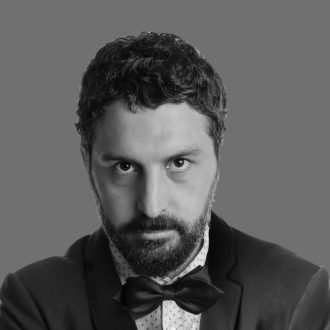 Von 1999 bis 2006 studierte und arbeitete Serhat Ertuna als Schauspieler am Stadttheater von Diyarbakir. Zwischen 2007 und 2012 arbeitete er als Schauspieler und Trainer für Theaterarbeiten mit der Jiyana Nu Group unter dem Dach des Mesopotamischen Kulturzentrums Istanbul. Derzeit lebt er in der Schweiz und absolviert ein Masterstudium in Zürich. Sein Studium hat einen starken Fokus auf Film und Fotografie.
Ji sala 1999 heta 2006 Serhat Ertuna li Şanoya Bajêr a Amedê wek lîstikvan xwend û xebitî. Di sala 2006-an de xebata xwe li Navenda Çand û Hunerê ya Dîcle û Firatê berdewam kir. Di vê demê de ew li ser senteza şanoya fîzîkî, laş û dansê mijûl bû. Di navbera 2007 û 2012-an de bi Koma Teatra Jiyana Nu re di bin banê Navenda Çanda Mezopotamya ya Stenbolê de wek lîstikvan û mamosteyê şanoyê xebitî. Ew naha li Swîsreyê dijî û dîsa xwendina xwe (Master) li Zanîngeha Hunerê ya Zurihe beşa Fine Arts berdewam dike. Xebatên wî xwedî girîngiyek xurt li ser fîlim û wênekêşiyê ne.