Love In The Face Of Genocide
Das isolierte Heimatland der Jesiden in den Bergen von Shingal hat im Laufe seiner Geschichte mehr als 74 Massaker erlebt, von denen der abscheulichste im Jahr 2014 von ISIS verübt worden. "Love in the Face of Genocide" setzt den Fokus auf die Auswirkungen von Leiden. Das Erlebte, das Religiöse und Kulturelle werden in den Liedern festgehalten, die Erinnerung daran an neue Generationen weitergegeben. Der Film dokumentiert, wie die Jesiden ihr Erbe pflegen und ihre Geschichten von Liebe und Trauer über die Generationen hinweg erzählen.
Belgefîlmeke balkêş ku Shero Hinde kişandîye, EVÎN DI RÛYÊ QIRKIRINÊ DE fîlmeke metraj dirêj e ku dive teqez were temaşe kirin. Kurtasî: Dengbêj şair û hozanên Kurd in, çîrokbêj in ku çîrokên ber windabûnê ji nifşan derbasî nifşan dikin. Kilamên ku bi gelemperî bê amûr têne gotin, curbicur mijarên berfireh wekî evîn, şer, malbat, lorî, jîyan û serhatîyan dihewînin. Ji ber vê yekê, Kurdên Êzidî yên ku di dîrokê de rastî zilmê hatine vê navgîna ragihandinê û mîrata hunerî diparêzin ji bo ku çîrokên xwe ji bo nifşên bê bi belge bikin.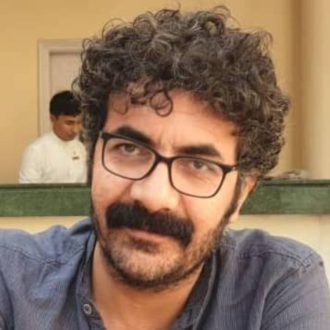 Şêro Hinde ist Regisseur, Schauspieler, Drehbuchautor und Lehrer aus Qamishli/Syrien. Er dreht kurze und abendfüllende Dokumentarfilme über das kulturelle und lyrische Erbe der heutigen Umgebung des antiken Mesopotamiens und ist einer der Gründer von Rojava Filmkollektive.
Shero Hine di sala 1980e de lı bajarê Qamışlo jı dayik buye. Lı bajarê Şamê arkyolojî xwendiye lê berê xwe da karê sînemayê weke Derhêner, lîstikvan û Senarîst. Shero dest bi çêkirina Belgefîlman li ser dîroka Sûrya yê kir ji bo televzyonê. Piştre Sînema weke kareke sereke girt û dest bi çêkirina Belge filman kır. Gelek Fîlmên belge û Çîrok bêjî yên kurt û dirêj çêkirin. Bi piranî belgefîlmên Wî bal dikşîne li ser Çand û kelepûra netewên cûr be cûr li Mezpotamiya. Her wiha Shero yek ji avakerên Komîna film a Rojava ye.