What makes objects valuable is not their price but the meaning behind them . Sometimes ,this is taught to us by the heroes we least expect nor know… A poor man (arabia) buys a new shoe but ISIS attacks the man's village. The man runs barefoot from fear and with little daughter falls into the desert. They see Kurdish guerillas wearing red shoes in the desert. And a warrior gives his red shoe to the man. But then the man will encounter another coincidence.
Zilamê kî Ereb ya feqîr, ji xwe re pêlavekî nû dikire, bes hin derfet çenabekû li xwe bike; Daîş êrîşê gund dike û zilam bi pêxwasî bi keça xwe direve û dikeve çola. Wexta kû hêvî ber bi tûnebûnê diçe rastî şervanên Kûrd ya pêlav sorin tên. Yê kû tişta bi qîmet dike buha ya wî nîn e, manevîya vê tiştê ye. Ew rastî yê , dem û cîhên nezan de qehramanên kû ji nişkave peyda dibin fêrê me dikin.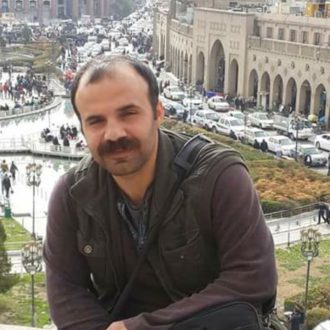 Rabirdûya Derhêner Numan ji li Edenê dayik bû. Ji Amedê ye. li zaningaha Ege'yê (Îzmîr) beşa sînema xwend. Niha jî li Başûrê Kûrdîstan'ê xebatên xwe didomîne. Heta Sê renk ( kurte film), Pelava sor (kurte film) û Payîzok ( Belge film) kiriye. Ji xeynî wî xebatên gelek bernameya televîzyonê û kîbên Mûzîkê amede kiriye.