The story is about a young boy who is looking for his addicted father who has escaped from an addiction camp. He eventually finds his father in one of the ruins and talks to him about returning home, but the father hides inside the ruin and only hears the boy talking. The boy leaves. When the boy returns home at night, he encounters a strange event that shocks him. At the same time, his eyes fall on the shadow of his mother and sister, who are dancing behind the window for Siamand's wedding. Seeing the happiness of his mother and sister, he makes a strange decision. ..
Çîrok, derheqê kurek genc li pey bavê xwe yê bengbûyî ye, ku li kampa terkandina madeyên hoşber revî ye. ew bavê xwe di cihek çol û wêrane de peyda dike û digel diaxive da ku vegere malê, lê bav xwe vedişêre û tenê dengê kurê xwe dibihîze, kurê wî bi tenê vedigere. dema vegerîna malê bûyerek ecêb dibîne ku wî şaşmayî dike, di heman demê de siya dayîk û xwîşka xwe dibîne ku li pişta pencereyê xwe hînî dans û govendê dikin ji bo daweta Siyamend. bi dîtina kêfxweşiya dê û xwîşka xwe biryarek ecêb dide…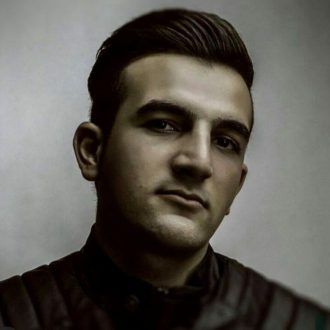 Majid Darvishnejad was born in 1996. He was born in Urmia. Darvishnejad, after many activities in the field of cinema, started making a home series and after the series aired, he made his first short film called sibar. He is currently writing a new screenplay and will soon be making his second short film Darvishnejad has been dubbed an active young man in his own country.
Mecîd Derwîş Nijad ji dayîk bûyê 1997an e. wî xebatên xwe yên hunerî weke ekter û derhênerê şanoyê destpê kiriye. di çend festîvalên navdewletî li rojhilat,başûr û bakûrê kurdistanê beşdar bûye û gelek serkeftin jî bi dest anîne. aniha çalakiyên sînemayî dike û weke genctirîn ekter û derhênerê bajarê xwe tê nasîn